Placerville Ornamental Iron by Wylde Ornamental Iron Fabrication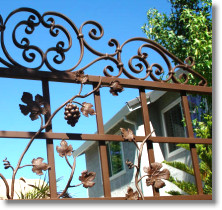 "Wrought iron" has been used for practical and ornamental purposes for thousands of years. Today, it is used in fencing, stairways, balconies, door and window grates enhances the beauty of homes and fine commercial establishments, imparting an old-world look that conveys both substance and elegance.

The value you want . . . the quality you expect
. . . the results you demand.

Wylde Ornamental Iron Fabrication is a family run business with over 20 years in the iron industry. We have the knowledge and experience to handle all of your personal and commercial iron needs. All of our iron pieces are custom built in house to deliver you that personal touch. We never skimp on quality. All of our custom iron work is fully welded (never bolted). We powder coat all of our works of art to ensure that they will give you lasting beauty and durability for years to come.
When it comes to installation we do not take sort cuts. All of our posts are set in pre mixed concrete. Our exterior railing attachment points are pre drilled then filled with a lifetime epoxy to ensure a leak proof fit. We use commercial grade hinges on all of our gates to make certain that they will hold up for the long run.
Our goal at Wylde Ornamental Iron Fabrication is to provide you our customer with personalized ornamental iron made to the highest quality with affordable prices. Your individual project will be completed on time and with all of your needs and expectations exceeded.

Getting the right look depends on having the right equipment and the best material. At Wylde Ornamental Iron Fabrication we have partnered with the industries top suppliers so that we can provide you with highest quality product using at the most reasonable price.

Our manufacturing and design process along with our superior sales staff equals great service and high quality iron products. When you need iron products to converge seamlessly into your environment, our team delivers. Rely on Wylde Ornamental Iron Fabrication for: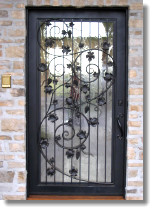 Residential and Commercial Metal Work
Wrought Iron
Ornamental Iron
Arbors
Fencing
Trellis
Gates
Railings
Automatic Gates
Stairs

Decorative Bridges
Architectural Staircases
Ornate/Decorative Iron
Handrails
Pool Fences
Telephone entry systems
Gates and fences
Specialty hand forged iron gates and fences
Iron works is a demanding challenge, yet every project is tediously constructed so that your expectations are exceeded every time. Customer satisfaction is our #1 goal. From arbors to fences, to railing and stairs, Wylde Ornamental Iron Fabrication is there, creating, designing, and making your project a success.


The warranty says it all.
But a warranty is only as good as the company behind the warranty.
Call Wylde Ornamental Iron Fabrication Today!
(530) 622-5455